Imagine Your Perfect Wedding!
- Feel free to
contact
us regarding your special event.
About ImagineWurks
Imaginewurks is locally owned and operated with 15 years of experience as Hawaii wedding videographers. Our team of professionals have also showcased their skills and talents of digital videography through weddings and other special events. We offer quality, competitive pricing, and satisfaction. We are committed to exceeding expectations. You can count on the quality and experience of Imagine Wurks Productions for all of your Hawaii wedding Videography needs.
Have a look around and view our portfolio.
Hawaii Wedding Pros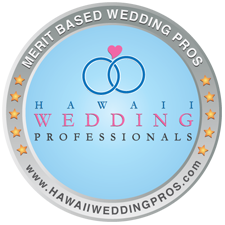 Imagine Wurks Productions and Hawaii wedding videographers Eric and Jody Kim are proud associates with Hawaii Wedding Pros. Hawaii Wedding Pros is a web site that contains the "All-Stars" of wedding pros you can count on.
We believe that the Bride's Stress or Success is reflected on her choice of vendors. We believe in Teamwork and this doesn't happen over night. It takes years of working together and appreciating each other's different talents to orchestrate a Wedding from Nice to WOW!
The Professionals listed on this website have worked together, so we tend to keep each other accountable to provide excellent customer service for our clients. We are looking forward to being a part of your success in planning the most important day of your life.
Videography Testimonials
Eric & Jody did an awesome job capturing our special day. I completely satisfied and happy with there work especially for our Hawaii Wedding highlight video that show of the wedding party getting ready before the wedding start at the reception.
Eric and Jodi work their butts off to provide you with the top notch Hawaii Wedding Videographer experience. They are there first thing in the morning to video the hair and make up artist to the groomsmen dressing and the ceremony and reception. I would highly recommend them to anyone who is planning a wedding. Very professional and you don't even notice them there. Very easy to communicate and prompt! Thank you very much!
-->