Imagine Your Perfect Wedding!
- Feel free to
contact
us regarding your special event.
About ImagineWurks
Imaginewurks is locally owned and operated with 15 years of experience as Hawaii wedding videographers. Our team of professionals have also showcased their skills and talents of digital videography through weddings and other special events. We offer quality, competitive pricing, and satisfaction. We are committed to exceeding expectations. You can count on the quality and experience of Imagine Wurks Productions for all of your Hawaii wedding Videography needs.
Have a look around and view our portfolio.
Hawaii Wedding Pros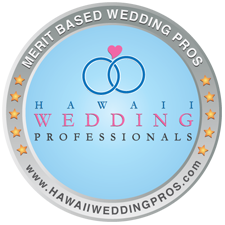 Imagine Wurks Productions and Hawaii wedding videographers Eric and Jody Kim are proud associates with Hawaii Wedding Pros. Hawaii Wedding Pros is a web site that contains the "All-Stars" of wedding pros you can count on.
We believe that the Bride's Stress or Success is reflected on her choice of vendors. We believe in Teamwork and this doesn't happen over night. It takes years of working together and appreciating each other's different talents to orchestrate a Wedding from Nice to WOW!
The Professionals listed on this website have worked together, so we tend to keep each other accountable to provide excellent customer service for our clients. We are looking forward to being a part of your success in planning the most important day of your life.
Videography Testimonials
Eric and Jody were fantastic! They got to the hotel on time, they were very friendly, and it's funny how you wouldn't even notice that they were taking videos of you – until you see the final product! We've only seen the wedding highlights video at this point, and everybody loved it! They really have captured the highlights of the wedding, as well as the emotions that were felt during our special day. Eric and Jody made it a point to get us the DVD and data disk of the Hawaii wedding video highlights even before we left Hawaii (which a few days earlier than the expected delivery of the disks). They definitely care about their clients and their needs! We definitely highly recommend Imagine Wurks! Can't wait for the full video, it's going to be amazing for sure!
Eric and Jody of ImagineWurks were amazing! They were so easy to work with and made the entire process effortless. Communication was of utmost importance to us. We encountered other vendors that did not respond in a timely manner or did not respond at all. This can be very frustrating and stressful while planning such an important event. Eric and Jody went above and beyond, communicating with us regularly, answering all of our questions immediately, and working with us to design a package that would fit our wants and needs. They were not only professional, but were so friendly and easy going. Choosing a Hawaii Wedding videographer that you trust and feel comfortable with is so important. After all, they are with you the entire day, from getting ready in the hotel room, to the big moment. They truly helped to make our day perfect! We would recommend them to anyone!
-->